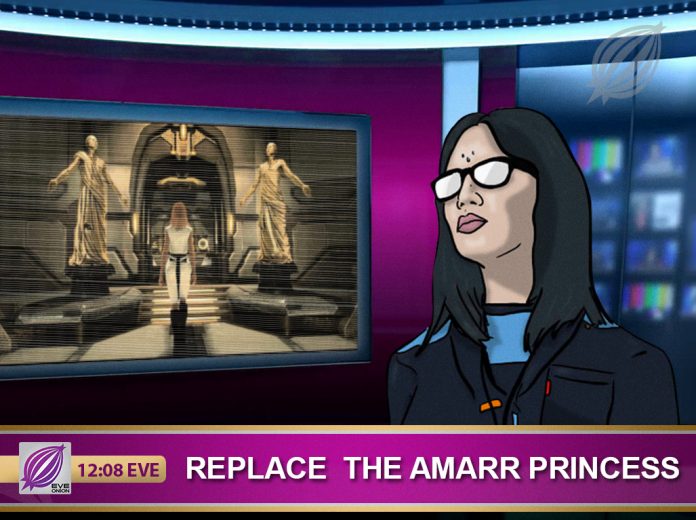 AMARR ROLEPLAY SOCIETY ELECTS NEW AMARR KING TO REPLACE UNRESPONSIVE AMARR PRINCESS
Amarr players have spent months attempting to reconnect with their distant and often unresponsive princess, elected last year after a crisis of leadership. Supposedly murdered, some claim the previous queen is simply taking time off and will return "any time now".
Players from all over Providence have made the mandatory pilgrimage to Amarr to cast space ballots as to who they believe would make the best king. As an aside, actual leadership skill is irrelevant in the election: Amarr players focus more on who is the "most Amarr", which could easily translate into another cold and unresponsive monarch and another election next year.
CALDARI REALIZE VALUE OF JITA, ATTEMPTS TO SELL
Perhaps unsurprisingly, the Caldari State is on the back foot in their war against the Gallente, and has started their mandatory budgeting of all non-critical assets. Jita's maintenance and fleet support yet again showed it was the only profitable part of the sprawling Caldari empire, though actually supporting it would not prove to be cost effective. Phrases such as "If it ain't broke, don't fix it", and "Seems to be working fine as-is" were thrown around at the top-secret megacorp budgeting board meeting, followed by "If they want to blow each other up, just make sure they pay the fines."
As of writing, fifty million civilian craft are lost daily to localized explosions of wardecced capsuleer ships attempting to undock nearby, making the actual sale of Jita nearly impossible for now. Regardless, the meeting made it clear this was the intended future for Jita, should the "slight murder problem" ever get cleared up.
GOON'S NEW HQ BUILT ON ANCIENT BURIAL GROUNDS
No one attended the opening of the Goon's newest HQ to mark a stunning upset over previous, traditional openings with thousands in attendance and slow-motion time dilation ribbon cutting broadcast live on Twitch. This could possibly be because of the "strategic" location of the new base on top of an ancient burial ground, or the fact the new base has not one but six Station Containers full of frozen corpses, thus making it an actual burial ground as well.
The Mittani was unavailable for comment and this reporter attempted to interview a local goon representative, but was offered mining passes instead.
EVE ONLINE DECLARED UNDEAD TO PREVENT CHINESE BUYERS.
Today marked the turning point in Eve Online's development. Citing an 18% increase in players over last year, it was announced that the game had officially reached Undead status and thus illegal for sale in China, who previously showed great interest in buying the franchise rights from CCP for reportedly six billion USD.
Some would call CCP's surprise announcement a clever marketing move to corner the Icelandic Space Video Game (SVG) market, but many have taken it as admission that Eve Online was dead at some point, thus making it qualify for being undead in the first place. CCP responded via Twitter simply with "chill, nerds."