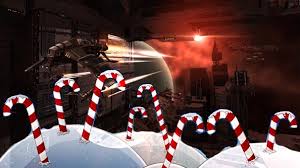 Greetings and glad tidings! As you are all aware, the holiday season is almost upon us. The EVE Online development team is hard at work bringing sweeping changes and important updates to the game and universe we all love. This time, it's in the form of a holiday song album: Christmas Tunes For Mining Veldspar is slated for release in just a few days, just in time for the holiday rush. The CD has 11 of some recognizable holiday favorites, parodied to work in the EVE Online universe. Insider sources say there were originally 15 tracks, but due to dropping the "VR Team", four songs were also cut.
EVE Onion received an exclusive, press-only look at the album just after it was finalized. The following will be a list of all the songs included, as well as a few excerpts from my personal favorite songs. CCP Falcon has an amazing singing voice, by the way.
The song list includes:
I Saw Three Rorquals
Corpses Floating in Open Space
Carol of the Fails
We Three Dreads
It's Beginning to Look a Lot Like This Roam Isn't Going to Happen
I'm Dreaming of a Full Ice Belt
Gate Camps We Have Done While High
Do You Hear What I Hear? (A Teamspeak Story)
Here We Come A-woxing
The Little Reddit Boy
Unto Us a Titan Jumps
It wouldn't be a holiday in EVE without some awoxing, would it? Here's a bit of what you'll expect with track number nine, "Here We Come A-woxing".
Here we come a-woxing
among your corp so green;
here we come to pod you
so hard to be seen
Just because we are blue,
and not on the overview;
does not mean that we are happy to see you
and you shan't be happy to see us
That tune really warms my heart. It's just the epitome of everything we hold near and dear to us in EVE. It's definitely a number one hit, without a doubt. Speaking of number one hits, I believe this next track will be a hit among anyone that goes out hunting for miners: I Saw Three Rorquals. This song embodies the PvP nature of EVE, it's just great. Here's a snippet of it:
I saw three Rorquals without PANIC
on Zkillboard, on Zkillboard
I saw three Rorquals without PANIC
on Zkillboard in the morning
Why such a lousy fit?
On Zkillboard, on Zkillboard
It would've lived as a shield super
on Zkillboard in the morning
Quite the tale, I tell you. And it's so very relatable, as I too often see Rorquals without their PANIC button on Zkillboard.
Keep your eyes open for Christmas Tunes For Mining Veldspar, arriving in stores soon.